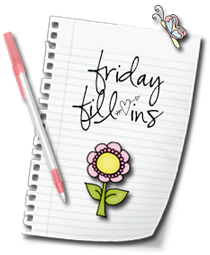 I
had so much fun doing last week's
Friday Fill-ins
entry. And this week is just as fun as last week. Come 'on gals! Where's your entry?
1.
Cabonara Fettuccine wt Bacon Crisp
and
Fried Rice Miss Y Style
make a quick and easy dinner.
2.
Bible
is the book I'm reading right now.
3. July brings back memories of
the first time I celebrated M's birthday with him and him saying he wished to celebrate his birthday with me in all the years to come.
4.
The fact that I am a coffee addict
was obvious.
5. They say if you tell your dreams
to your love ones and he shares the same dreams as you, you two would make a perfect couple.
6.
Buying another doggie is something we need
to think it over.
7. And as for the weekend, tonight I'm looking forward to
baking cookies
, tomorrow my plans include
updating AGP
and Sunday, I want to
enjoy myself in the presence of God!
**********
First THREE Commentators