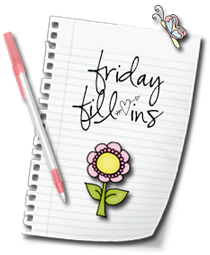 T
his is my first
Friday Fill-ins
entry. It took me a long time before deciding to join my friends in this fun weekly meme. How can i resist the fun, rite!
1. The last thing I ate was
curry chicken
and
fried fish.
2.
Mooncake mould
is something I recently bought.
3. When it rains, it
dance
.
4.
M
was the first person I talked to today.
5. Hugs are
much needed especially when i am sleeping.
6.
A yummy hot cappuccino on my breakfast table brings
extra comfort.
7. And as for the weekend, tonight I'm looking forward to
seeing my friends
, tomorrow my plans include
making mooncake with M's grandma
and Sunday, I want to
enjoy myself in the presence of God!
**********
First THREE Commentators