M
y BFF
Marzie
has given us this special award during our MIA episodes. It's a warmth feeling to know that we are in her heart even after months of silence from our side. Thanks for remembering us, lovely! You're da BEST!!
We're definitely Over The Top now!! woohoo!!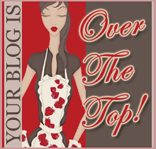 To receive this award your blog must be exceptional in design and content; presenting us with new knowledge, a sense of style, or at times just giving us a smile!

Each recipient of the award will acknowledge the person who honored them with the award and then go to http://overthetopaprons.blogspot.com to copy/paste the award : Your Blog is Over The Top. (located on the right sidebar, scroll down)
And now, we would like to pass this special award to our beloved friends, just so that they would know we thought their blogs are over the top and they are in our hearts:
Marzie, Chubbs, Phebes & Benji
,
Emila
,
Janice
,
Sandman
,
Monica
,
Ane
,
Shemah
and
Bill
.
**********
First Commentator