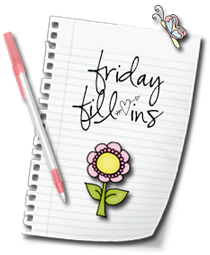 I
'm sorry if my post today seems to be gloomy or negative. I can't help myself from feeling down. But don't worry about me, i just need to get it out! Perhaps, i will get better after my second cup of coffee.
And...here we go!
1. I hold
on to the scant memories i had with our baby Julia to keep myself sane.
2.
My hubby
is someone I like to travel with because
he's the only one who can understand how i feel now.
3. That day,
i had a dream about a baby, but it wasn't our baby Julia.
4.
I don't like
this year.
5. Trust
noone but only your hubby!
6.
The truth is still
in the dark.
7. And as for the weekend, tonight I'm looking forward to
drinking with my friends
, tomorrow my plans include
going for groceries shopping
and Sunday, I want to
relax with my hubby!
**********
First Commenter